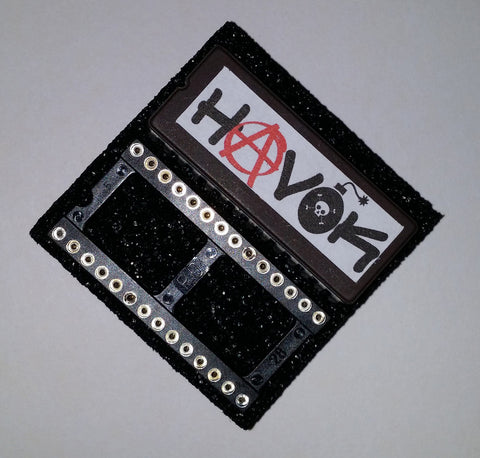 Havok Engineering V1 V2 WRX Spec 1 ECU Upgrade Chip – Launch Control / Overheat Protection - 16 PSI
The Real Deal - Havok Engineering Spec 1 tuned ECU upgrade for the Version 1 and Version 2 Subaru Impreza WRX or STi. Designed to fit in the factory ECU, these replace the stock chip with performance settings, and add a few extra features.
Features:
Performance tuned fuel and ignition maps
Launch control code added, and set to 5000 rpm. This can be adjusted upon request.
The 180 km/h speed cut has been removed.
The rev limiter has been raised to 7400 rpm. This can be adjusted upon request.
The boost cut has been removed.
Adjusted wastegate and boost targeted to 16 psi. No Boost controller is needed.
A 3000 rpm rev limiter is activated if the ECU detects engine temps over 100º C.
This EPROM chip has been tuned for a stock to mildly modded car. Ideally you will have:
Upgraded fuel pump.
Free flowing exhaust (Cat-Back is fine).
Free flowing intake system.
 What to expect:
Increase in mid-range performance.
Mild pops and bangs from the exhaust.
Significant increase in Launch performance. The car will start to build boost while you are launching, and with the launch control feature your launches will be more consistent. 
What's included:
Performance tuned EEPROM chip.
Installation socket.
Notes:
The speed sensor wire must be intact for the launch control to work.
Soldering and desoldering is required for installation.
There is no extra wiring or hookup needed for the launch control. It works off extra code that is added into the chip.
---
We Also Recommend