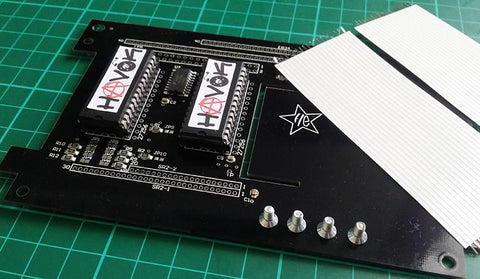 Havok Engineering Nissan S14A SR20DET Stage 1A ECU Upgrade Board
The Real Deal - Havok Engineering tuned daughterboard upgrade for the Nissan S14A (Facelift / Kouki) Silvia with an SR20DET engine. Designed to fit in the factory ECU, these remap the ECU with performance settings. These are available for Manual Transmission cars.
Features:
Performance tuned fuel and ignition maps
The 180 km/h speed cut has been removed.
The rev limiter has been raised to 7700 rpm. This can be adjusted upon request.
The boost cut has been removed.
Tuned to run up to 15 psi.
Tuned to approximately 280bhp.
Improved fuel economy when cruising.
Able to be re-mapped using many popular software applications.
Supported ECUs:
This daughterboard
 has been tuned for a stock to mildly car. Ideally you will have:
Upgraded fuel pump.
Free flowing exhaust (Cat-Back is fine).
Free flowing intake system.
Boost controller capable of 15 psi (an external wastegate will work fine).
What to expect:
Increase in mid-range performance.
Removed Flat-Spot that comes from fitting a front mounted intercooler.
What's included:
Performance tuned daughterboard.
Ribbon cable to connect to the ECU.
Screws to mount the daughterboard inside the ECU.
Notes:
Soldering and desoldering is required for installation.
---
We Also Recommend