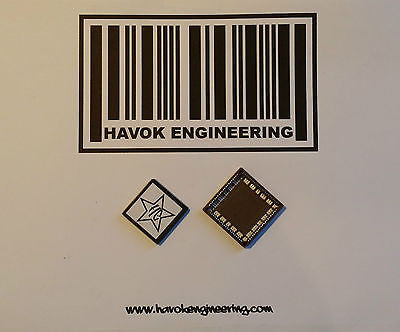 Havok Engineering 1996 - 1997 Mitsubishi Galant / Legnum VR-4 ECU Upgrade Chip
The Real Deal - Havok Engineering tuned ECU upgrade for the "Eighth Generation" EC5A or EC5W 6A13TT V6 Mitsubishi Galant or Legnum VR-4. Designed to fit in the factory ECU, these replace the stock chip with performance settings.
Features:
Performance tuned fuel and ignition maps.
Adjusted wastegate and boost targeted to 15 psi.
The 180 km/h speed cut has been removed.
The rev limiter has been raised to 7600 rpm. This can be adjusted upon request.
The boost cut has been removed.
Tuned to run approximately 320 hp.
Available for both Automatic and Manual transmissions (please specify upon purchase)
This MCU chip has been tuned for a stock to mildly modded car. Ideally you will have:
Upgraded fuel pump.
Free flowing exhaust (Cat-Back is fine).
Free flowing intake system.
Metal case 7201 ECU (This is NOT suitable for the plastic case ECUs)
What to expect:
Improved fuel economy when cruising.
Improved low end torque.
What's included:
Performance tuned MCU upgrade chip.
Installation socket.
Genuine Feedback:
"I would just like to say thank you for the work you have done, it is now boosting perfectly up to 14psi (using the solenoid) but not only that I had a fairly bad stumbling issue down at 2k rpm when I really got on it and that is ALL gone now. Car runs perfectly and is rather violent compared to what it used to be like! Thank you so much for helping me out." 
---
We Also Recommend