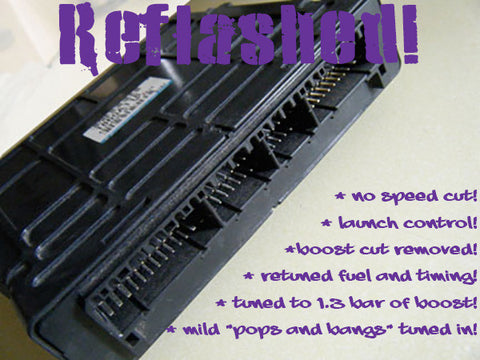 Havok Engineering Tuned Mitsubishi EVO ECU, Reflashed for the EVO 4!
The Real Deal - This is for a full replacement Havok Engineering Tuned ECU for your EVO IV. This is not a chip, or an e-tuning service, but a full ECU.

The factory part number was MR420403 (Occasionally we substitute the ECU, but the functionality is guaranteed the same)

The ECU has not been locked in any way, and can be retuned using open source software.

This tune has been modified for a whopping 1.3 bar (19 psi) of boost!

Minor "Pops and Bangs" have been added to the tune.

Launch control code has been added, and has been set at 5300 rpm. This can be altered upon request.

There is no additional wiring or modifications needed for launch control. It is a software addition to the ECU. (The speed sensor on the car must be working and intact).

The 180 km/h speed cut has been eliminated. 

The annoying boost cut has been removed.

The rev limiter has been adjusted to 7800 rpm. This can be altered upon request.

In many cases this is a "plug and play" installation. On some cars, however, 2 wires need to be swapped. Instructions are included.

We also do these for the Evolution 1 - 3. Please enquire before purchase, as there is wiring work to be done. It is not a plug and play install.

Supplied: 
- Performance tuned EVO ECU.
- Installation instruction and info sheet.

Required:
- EVO 510cc "Yellow" Injectors.
- For 1.3 bar of boost, a fuel pump upgrade is recommended.
- Premium petrol / gasoline.
---
We Also Recommend